When I got an email from Swimwear 365 about their Google plus hangout, I was excited but at the same time thought ' what if I can't get it to work'. Thankful it's actual really easy so if your planning on hosting one or joining one, you don't have to be a computer genius. I really enjoyed chatting with Helen (who's a fashion stylist and TV presenter), Charlotte and the other blog ladies. It was great to hear I'm not the only one, who is a little lost in the many styles swimwear now comes in. I think we all picked up some great tips for our different body shapes, and there are heaps of tips for you lot to find your perfect style. The other bonus of the hangout was that I was at home with baby Logan, (you can see the top of his head in the photo below) I think more brands should hold them.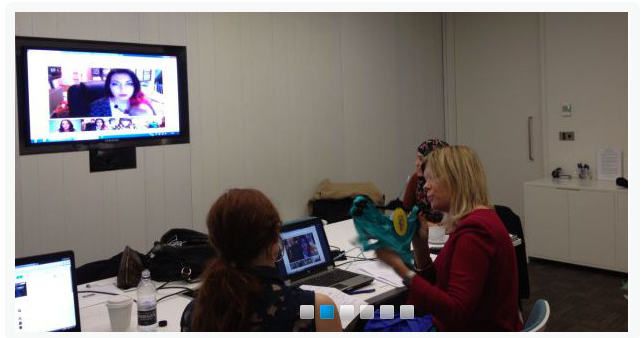 After talking with Helen and looking at the huge choice for my pear shape, I went for the
Lascana red polka dot swimsuit
as we talked about in the chat it's gathered in the tummy area. This is a must for me, after having two boys my tummy always bloats. The halter neck brings more attention to my shoulders, and balances my hips out. I love the colour, as I'm a huge fan of vintage styles.There are style for every shape, so if your lucky enough to be escaping the cold or you live in a warm place check them out.
I often forget that you lovely lot live all over, and a lot of you have the sun and beaches to go hang out on (damn you). It must seem odd seeing all us U.K lot moaning about the cold, and even wearing thin jumpers in summer. I think having lovely swimsuits, makes me more focused on going away somewhere and taking the boys swimming. Plus because it has shape wear inside, I don't have to do a crazy work out I can just fake a flat
tummy inside.