It's that time of year again, the smell of Christmas is in the air ...Okay maybe not, maybe that's all the London pollution going to my head. What you can feel is that before you know it, you'll be wrapping presents till 2.00 am, wishing you had planned ahead more. There's one thing that will never change, even if you don't celebrate Christmas. What am I talking about, well the bad taste jumper of course. I've always loved a good old fugly knit, to me they are more creative and so what if they make people laugh. Why people feel they have to be 'on trend' 24/7 is beyond me.
This Gettingpersonal.co.uk jumper is actual rather cute, and not what I'd call bad taste. Saying this they have an Elf jumper and a Santa one, perfect for the cringe factor and maybe even some dad dancing. They don't just sell crazy granny jumpers, they have a lot of cool gifts. You can have them personalise with the persons name, I really love this Love hearts phone cover. Or how about a retro sweet hamper, I swear I'd have no teeth left Christmas day I love
Flying Saucers, Love hearts, Black Jacks, Foam Shrimpys!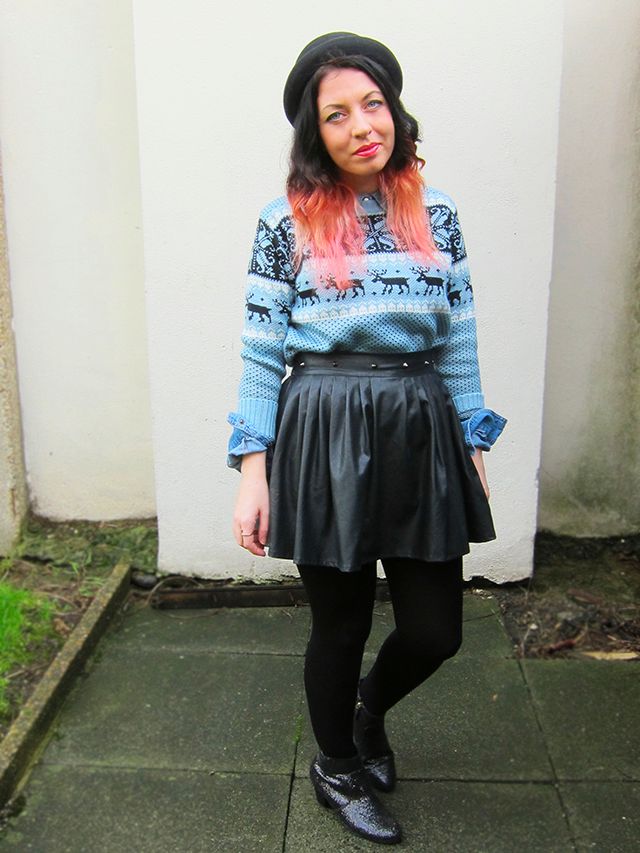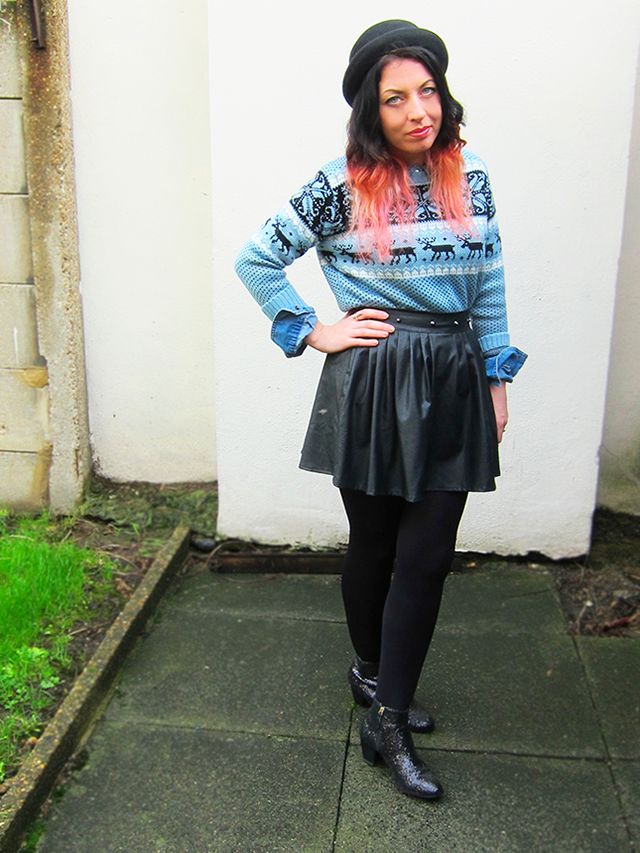 Shirt: Primark via chairty shop
So outfit wise I went for a pleather pleated skirt of course (worn this to death), and a denim shirt worn underneath I think these are my go to for wearing a jumper. I would also wear this with a studded collar shirt, sequin leggings and heels, for a night look. I think this is by far the best 'bad taste' jumper I've ever worn, the worst was an 80's purple (complete with shoulder pads) abstract print jumper/shirt. If I had been near Christmas lights I would have caught on fire, it was vile but I kinda miss that purple mess because it reminds me of that Christmas.
Do you like a good old fugly jumper?
Describe the worst bad taste jumper you have ever worn- it's good to share.