This year has been a pretty amazing one, I now have two boys as Logan come into our lives this year and I've learned a lot- Photoshop being one thanks to Blogging. Also that there's nothing wrong with my body, that my fellow bloggers are not just that but a lot I would call my close friends and heaps of other stuff. I think in life and through this blog I have taken more risks this year. If I can pass anything on to you all is, don't be afraid to do it now!
Anyway enough of my rambles, and check out my velvet dress. It cost me £4.50 from the charity shop, and I wanted to show you it so badly that I don't even care that I have bags on my eye bags. The boys ( Corben is 3 years old the Logan is 11 months) have been keeping me up, one has a cough the other is teething. Still as part of the new me, I thought this is me! I've learned photoshop, but I'm not going to airbrush myself a new me. I get spots, I have dry skin, eye bags and love handles.... Really selling myself well I know. I think people sometimes forget, that if people wanted that they could just pick up a magazine. I prefer to see someone with a few 'flaws' it makes me feel more normal, and less like I should be living under a rock, until I've somehow morphed into Kate Moss.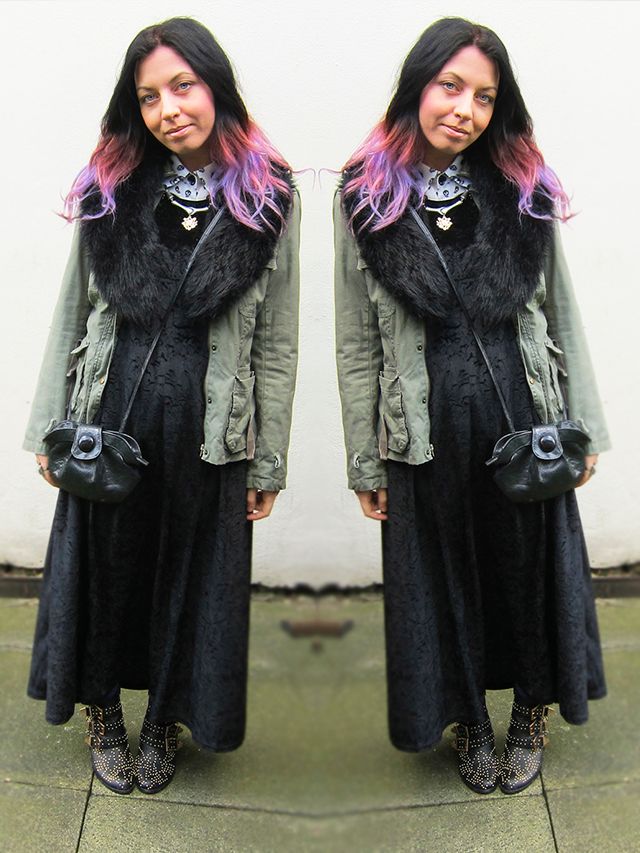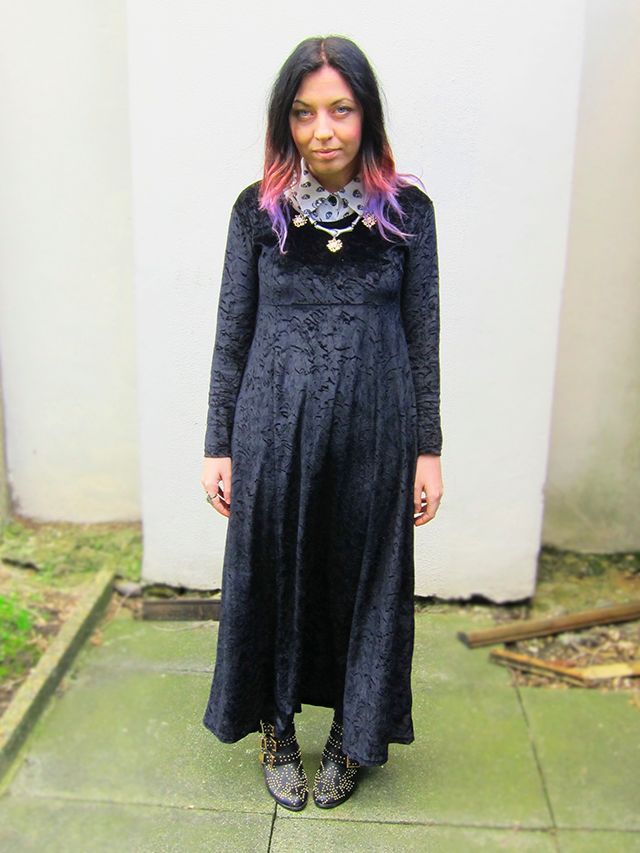 Jacket & Bag: Primark (old)
Some one emailed me about a post years ago, and said how funny it was THANK YOU for not pointing out my awful spelling and bad grammar. I have corrected a lot of my spelling, turns out I didn't care as much back than how I have grown with this blog. It's so bad that I can't even recall writing it! I swear I'm 29 going on 89! Anyway it did make me laugh, so I thought I would share it with my new readers. It makes me sound so bitter and twisted about Christmas, when really I do like Christmas. Ssshhh it's our secret okay.
Things I hate about Christmas:
(SORRY had to be said)
* Peoples idea of gift wrap in shops, next time I will give it to a dog and let it dry hump it.
* People buying things for no good reason. I have seen people in the supermarket when it is mental with a packet of gum and a kit kat, is life that bad that you would queue for 45 minutes on a Sunday. For that ....really.
* Bad Christmas tunes. I don't mind the classics and if they are by the original artist, but covers of shit Christmas songs are unbearable especial when it's busy and you are stuck listening to them over and over. Plus think of your poor staff !
* Christmas snacks. Why do they look amazing on T.V than you buy them and they look like crap and taste like crap, are they eating plastic food on those ad's I think so.
* Fighting. It seems where every you are people will fight at Christmas, at the bus stop over who gets on first, in the car park for space and at the check out for who actual had the last dress/ Brussels sprouts or Santa hat.
* People being miserable and making you feel like it. I dislike Christmas but I do smile and try to be festive and get involved, I hate that one person who just moans about everything and even moans if anyone says something mainly negative (please go and watch whatever by yourself in the next room with a microwave dinner if it's that rubbish).
* People wearing summer clothing in winter (outside in the cold trying to keep trendy), yes I want summer back too but your wearing a vest top and shorts with no tights and the thinnest cardigan know to man (also know as a jersey top) won't help. Or just stay inside that way you won't be hospitalised with h

ypothermia

!
There are many more but I need to stop ........
What do you love/hate about Christmas?
Merry Christmas

to you all and thank you for all your support, without you lot I would just be rambling to myself.

THANK YOU

!