I first started using makeup when I was about 13, I was clueless. I mean my mum was a bit of a hippy, and her only advice was to was wash my face with soap! So I had to self teach through asking girls at school, and looking at photos in magazines to try and guess how they did it. Yes there was a time when you couldn't just google, and a You Tube video would appear telling you the In's and outs of everything.
So to say that my makeup was awful, is a HUGE understatement I loved glitter which made it worst. My skin was five shades to pale, my eyeliner was smudged and never matched and I looked like I had just stick my face into a makeup bag full of open product.
Now I can get my winged liner done in less than 15 minutes, know what colours I need to blend out and tell if a blusher will make be look more drag than fab. Yes it's take me years, but I got here at least I hope I have!
There's an
other side to my
relationship with makeup that I wanted to share,
I have BDD otherwise know as
body dysmorphic disorder
, so makeup become a tool in dealing with the hate I felt for my face if I could cover it up maybe the hate would go. 'Did she say hate?!' Sadly yes BDD is a disorder which to put into simple terms, makes you view yourself differently you loath your own body image. I also suffered with depression, obsessive thoughts on how I would fix my face, body and anxiety as a result of the BDD, I also found it hard to talk to new people and felt constantly judged. It took over my life.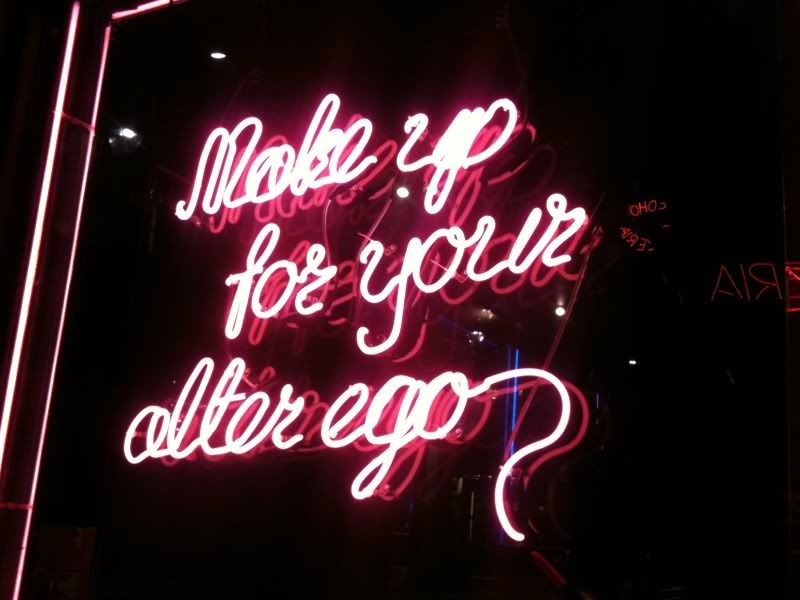 I think a lot of people assumed I was vain as I would check how I looked constantly, little did they know that my appearance often made me literally sick. I was always running late because I had to get my makeup 'perfect', often taking it off and putting it all back on up to 7 times a day on a good day- my OCD was completely out of hand and I was consumed by my anxiety to fit in. Makeup became my mask that felt like a huge weight around my neck, I felt people would reject me without it.
I hated myself for letting people down, for not being able to be
positive for not being there for them, I thought I was a failure who didn't deserve them in my life.
I can't
believe I wasted so much of my life not going out with friends, because I hated the thought of someone seeing my spots. Not going on dates because I though I wasn't good enough for someone, and that no one could ever love me.
I wanted to share this as I still have BDD, and always will but it doesn't rule me now. I think humour helped me, before I used it to cover up my feelings with jokes and it was a way of keeping people distant. Now I can joke about things I do find funny, I know that I will never be anything like the images of 'perfection' I had in my head growing up. But now I don't want to be, because I'm me and I'm so much more than my face! I go to the shops without makeup on, and I never thought I'd be blogging with my mug all over it! Plus now I'm lucky if I get 20 minutes to put on makeup, what with my two little boys. I think having support got me here too. When I finally spoke to my friends and family about how I felt, having their love and honesty pushed me to get help. Seeing that no one actual cares about my face took a long time, their too busy living their lives and I can relax when I go out. If you feel this way and need support please talk to someone, your not selfish and getting help for BDD will change your life you don't have to feel trapped or alone.
I think when it comes to makeup you need to be in control, and not let it become who you are it's just a fun add on to yourself. There is nothing wrong with you, and if you use makeup as a mask than try a makeup free day, it maybe just the empowerment you need to realise that it's okay to not wear any. Don't look in the magazines or to your television and believe that these people have the perfect anything, no one does! There secret is not makeup, it's air brushing, lighting and a team of pros's slapping whatever they can on to achieve this so called 'perfection'. If you can love your face makeup free, than think how much better you feel when you put a little on. Embrace your face and your features, and if you do what to wear makeup use it to bring out the beauty that is already there.
So now I wear makeup every now and than, but I don't have to it's my choice I think it's fun, and it's no longer something I'm trapped behind. Not wearing makeup shouldn't be seen as brave, it's normal and we all have one thing better than any makeup and that's a smile so remember to use it (you love the cheese).
How do you feel about makeup? Do you have BDD? Share your thoughts I would love to hear your side.